Ramadan, a Good Opportunity for Tourists to Discover Other Face of Iran
Ramadan, the ninth month of the lunar calendar, is the time all Muslims are expected to fast for the whole month, except the sick and the weak, the children, the pregnant women, the elderly, and the travelers. Iran, as a Muslim country, follows Ramadan rituals too. The fasting takes from sunrise to sunset with no food and drink. This forbearance is believed to purify the spiritual nature and to make feel a deeper sympathy with the deprived people.
People who fast have a light meal early before the dawn named Sahari, and end their fasting with an elaborate meal called Iftari. Sahari is usually like a big family breakfast, consisting bread, cheese, tea, and dates as example, as well as prepared meals such as Kuku. Iftar, on the contrary, sounds like a feast, and many religious places like the mosques host the public too.
Ramadan ends with Eid al-Fitr. This religious month has its own special rituals that could be counted as attraction to the tours to Iran, such as serving Iftar in religious gathering places, and Iranian public nightlife. In the evening when the fast is broken, many shops or people, who have made a pledge, offer the passengers and pedestrians the dates, tea, soup, Halva, Haleem (traditional delectable and nutritious porridge made of wheat and meat) and other delicious food. In Ramadan, the tourists can have a richer experience of Iranian style nightlife. At night, most of the shops, especially the restaurants and coffee shops are open. Many families and young people come out and spend time in the streets and parks until near dawn. The cities, covered in glowing lights and crowded with people at such a late time, seem more alive than any other time.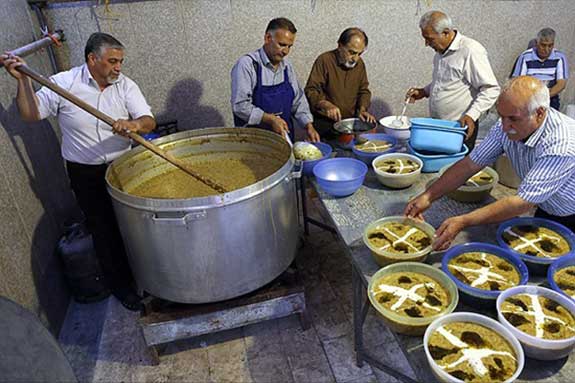 Iranians making Ash Reshteh to host fasting people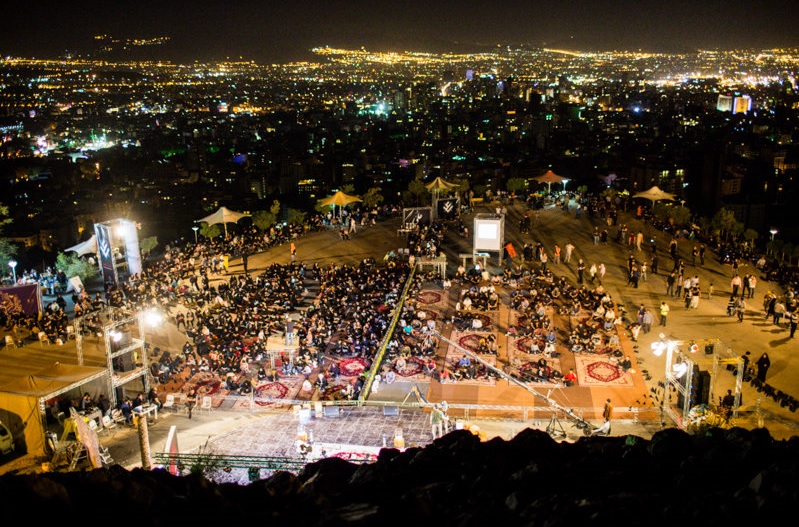 Nightlife in Ramadan nights of Iran
Some tips the tourists
The tourists are expected to respect the Iranian Muslims' rituals by refraining from eating, drinking, and smoking in public during the day, but some restaurants and fast food outlets, especially the restaurants in the hotels, highways, airports, railways and bus stations are open; so, they can have meals there.
There are some must-eats that are strongly recommended to the tourists who travel to Iran in Ramadan. Āsh Reshte (Persian traditional soup made of vegetables and noodles) and Sholeh Zard (Persian pudding made of rice and saffron) are among them. Zulbia & Bamieh are also traditional Iranian sweets for Ramadan.
So, despite of what many tourists think, Travel to Iran in Ramadan could be a chance to discover the other face of Iranian culture, hospitality, beliefs, and nightlife.