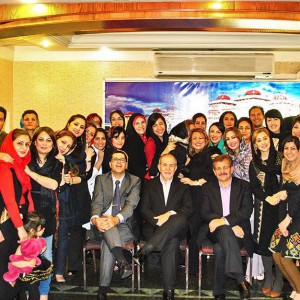 Iran Doostan Introduction
Iran Doostan Tours Company has been working on incoming tours for more than 2 decades and it has been operating outbound tours for the last five years. MICE and business departments have been activated for eighteen years.
IDT has succeeded to be the best Tour Operator among all other companies in 2004, 2008, 2009, 2012, 2013, and 2015 in Iran (Among 4000 Iranian Travel Agencies) and got the Iran Tourism Industry Awards of Excellence in  2008.
We offer the following programs:
Fully escorted tours ranging from 8 to 22 days, with different itineraries.
Tourist and business visas within a few days.
Tailor-made individual and group packages.
Hotel reservations, domestic and international transfers and ticketing.
Archaeological, historical and cultural tours.
Special packages of various sporting activities such as skiing, climbing, Trekking, Diving, nature & adventure tours.
Business travel (MICE) services, conferences, meetings, seminars & study tours with facilities for cultural and educational films.
Special tours of Nomad's region. (Qashghaei & Bakhteiari tribal tours), witnessing their migration, visiting their tents and learning about their tradition and way of life.
Joint tours of Iran and Central Asian countries.
Pilgrim Tours
Iran GSA for World Net Hotels (WNH-Online hotel reservation system) www.wnh-ir.net
IDT designed and built the first Iranian Eco Camp in the Central Desert of Iran in 2010. The aim is to offer visitors unforgettable adventures as close to nature as possible. With treks on camels or on foot, accompanied by highly experienced naturalists, bike rides through landscapes of sand dunes and mountain gorges, desert walks at night under unbelievable star-lit skies. MatinAbad Desert Eco-Camp nestles under centuries old desert trees and has a 360 degrees view over the desert landscape, local farms and surrounding mountains. Karkas Mountains in the South and Latif Mountains in the North give the landscape structure.
We are proud of creating lots of "Firsts" in the Iranian tourism industry.