0
Weeks
0
Days
0
Hours
0
Minutes
0
Seconds
According to the program ,the clients arrive at Shiraz on 04/02/2018 Sunday (early morning)/ 03/02/2018 Saturday(evening/night).
You can start to sign up for this offer from today until 10 days before the arrival date.
Treasures of Ancient Persia February 2018
In our travel to Iran, we will visit the great kings ruled over Iran through Iran's ancient histories, live with famous poets through their fantastic poetry, get excited with Iran's many spectacular sceneries, and find peace communicating with its warm people's hospitality.
First, we will arrive in Shiraz- the city of love and poetry- to stroll within the scented atmosphere of Naranjestan garden, to visit the tombs of Hafiz and Saadi known as two great Persian poets, to go shopping in the old Bazaar of Shiraz, to go wondering in the ancient ceremonial capital of Achaemenians "Persepolis", and to explore "Pasargadae" , the tomb of Cyrus the Great.
We will arrive in the adobe city of Yazd-the city of wind-catchers- to enjoy its mud-brick structure, to visit the great garden of Dowlatabad that is an amazing Persian garden and its tall wind tower- the tallest in the city-, to get a glimpse of Amir Chaghmaq complex, and to explore its Zoroastrian fire temple.
In Isfahan; called "Half of the World", we will visit UNESCO world heritage site of Naghsh-e-Jahan square dating back to the glorious Safavid period. It is surrounded by great Imam Mosque, Sheikh Lotfollah mosque, Ali Qapu Palace where Safavid kings sat to watch polo tournaments, and the bazaar. We will also enjoy strolling along Isfahan old bridges over Zayandehroud River. Later, we will go to Matinabad Eco-resort, the first and only eco-resort in Iran to have a good experience of desert accommodation and to have a chance of stargazing under the clear night sky.
In Kashan—the City of Carpets and Roses—we will visit beautiful Fin Garden and its surrounding scenery.
In Tehran- the capital of Iran- we will enjoy visiting National Mueseum of Iran exhibiting the arts and achievements of Ancient nations, Golestan Palace telling the stories of Qajar era, and Milad Tower as the sixth tallest tower in the world. Tehran is where we will leave Iran with our best memories and priceless souvenirs.
The prices for your  Program, based on Bed and Breakfast, in shared DBL room, per pax would be as follow:
| | |
| --- | --- |
| Group size | Price in EURO Per pax |
| Minimum 02 pax | 934.00 |
Single Supplement:  277,00 EURO
Arrive to Shiraz. Our guide is waiting to greet and transfer you to hotel. Overnight in Shiraz


We will begin our educational adventure with our Group Leader. Among the highlights we will see Narenjestan Garden, circa 1257 CE, Which includes richly decorated pavilion set among graceful trees.  Then we will walk to the Vakil Bazaar, originally established in the 11th century CE, one of the finest and important bazaars of historical Iran. Then visit to the tomb of Hafez, Iran's greatest lyric poet, followed by the tomb of Sa'adi whose poems and tales are still known to every Iranian. Afterward we will take a field trip to the Arg-E Karim — Karim Khan Citadel — located in downtown of the city and named after a king of the 18th century Zand Dynasty who made this city his capital. We will learn about the citadel, King Karim Khan, and the dynasty. At the end we will visit the exterior view of Ali Ebn-e Hamze and Holy shrine of Shah Cheragh and enjoy its shining domes. Overnight in Shiraz.

SHIRAZ-PERSEPOLIS-YAZD

Day 3

After checking out of the hotel, we will board the vehicle and head towards Yazd, one of the most distinctive cities in Iran, renowned for its Persian architecture. En route visit Persepolis (Takht-é Jamshid) in the heart of the fabled Persian Empire. Once one of the greatest architectural wonders of the ancient world, it was founded by Darius the Great, who made it his capital in 518 BCE. Persepolis was a treasure city and one of the richest in the world. When he conquered it in 330 BCE, Alexander the Great took possession of 2,500 tons of gold and silver in addition to other fabulous assets. One night, he and his companions were feasting and drinking. As the story goes, they decided in their drunkenness that the royal palace should be burned in revenge for the Persian destruction of Athens a century earlier. And so the jewel of Persia went up in flames. Enough remains so that we can imagine its original splendor. We will see massive statues of winged bulls, a grand stairway wide enough for five horsemen to ride abreast, elegant columns, and hundreds of carved figures. Then we will stop in Pasargadae, a UNESCO World Heritage Site, to view the austere tomb of Cyrus the Great (c. 600-530 BCE). Alexander the Great paid his respects here because Cyrus was one of his role models as an ideal ruler. At night we will arrive to Yazd and check in hotel. Overnight in Yazd

Today will be one of the more fascinating field trips in our program, with a local expert providing commentary. Situated in a remote area where two deserts converge, Yazd dates back to c. 3,000 BCE. It was a stop on the fabled Silk Road, but its location kept it safe from the ravages of war and destruction for centuries and so its local culture remained strong. The city is made almost entirely of adobe and mud brick. Beyond its importance as a desert "port" for trade, Yazd was one of the principal centers of the Zoroastrian religion. Zoroastrians venerate fire as a holy entity that comes from the supreme god, Ahura Mazda, and invokes truth in the hearts and minds of believers. We call their places of worship fire temples, where sacred flames were kept burning continuously. We will visit the most important remaining fire temple in Iran, Atashkadeh in Yazd. We will also see one of the so-called towers of silence where Zoroastrians took their dead to avoid contaminating the earth.  Then in afternoon the field trip goes to Bagh-E-Dolatabad, a unique octagonal house with the tallest wind tower in the city. Here we get a demonstration of the effectiveness of these towers first hand. We'll then visit the Amir Chakhmaq complex, one of the most extraordinary in all of Iran. In addition to the distinctive 3-storey mosque, there are a number of other exceptional structures. We will also explore the renowned Yazd bazaar with its narrow, covered passages that feature products for which Iran is known including high quality textiles, carpets, sweets, nuts, and much more. When we finish visit, we take the road to Isfahan. Less than 350 km drive with frequently stops en route. After arrive to Isfahan it will be relaxing to walk in the bank of famous Zayanderoud. Overnight in Isfahan

Iranians say that Isfahan, capital of the Safavid Dynasty from the 16th century on is "half the world." Our exploration, led by a local expert, will include two of the most impressive mosques amid a myriad of remarkable sites. At the center of the city is Naqsh-e Jahan, one of the world's biggest squares, created in the 17th century. The huge, open plaza is framed by a wall of arches and surrounded by the Masjed-e Sheikh Lotfollah and the Masjed-e Emam mosques. We will admire their magnificent architecture and tile-work. We will also walk through the Ali Qapu Palace with its enchanting music room and balcony overlooking the Maidan where the Safavid kings sat to watch polo tournaments. We will cross through Meydan and entre to the bazaar that was and is one of the most important elements of every Persian and Iranian city, sitting at the center of the neighborhood and social consciousness. The Isfahan Bazaar is one of the country's most famous. In addition to the stalls of textile and carpet merchants, makers of jewelry and handicrafts, vendors of spices, and much more.

ISFAHAN-MATINABAD ECO RESORT

Day 6

We will check out of the hotel and begin our motorcoach journey to Matinabad. But first we get to know Isfahan even better with field trips to several memorable sites. First is the magnificent Jame Mosque with its famous Uljaytu Mihrab of the Il-Khanid Period, artistic treasure stucco densely decorated with Quranic inscriptions and continue to visit Chehel Sotun, a pavilion constructed as a reception hall for visiting dignitaries by Shah Abbas II, and Hasht Behesht, an octagonal pleasure palace built a few years later. Proceeding to Matinabad, we will meet local villagers and before we sleep, we will experience Atashouni, gathering around a campfire to enjoy a starry night.

MATINABAD-KASHAN-TEHRAN

Day 7

After camel riding and enjoy cycling (optional) in Matinabad, drive to Kashan—the "City of Carpets and Roses"—with a rich history and culture. After our arrival in Kashan we visit the Fin Garden. The garden is a historical Persian garden that contains Kashan's Fin Bath. Amir Kabir, the Qajarid chancellor, was murdered by an assassin sent by King Nasereddin Shah in 1852. Completed in 1590, the Fin Garden is the oldest extant garden in Iran. Continue to Tehran and stop at the entrance of Tehran to visit Imam Khomeini mausoleum. Check in hotel and overnight in Tehran.

Today we will explore Iran's capital city — which is also its largest — with our Group Leader. Tehran has grown tremendously since it was reinstituted as the national capital and is now home to some 12 million residents. We will begin our exploration at Golestan Palace, the city's oldest historical monument and one of the most lavish. The palace was built around a garden. Its richly ornamented interiors feature artistic styles emblematic of the Qajar dynasty — also incorporating technological advances of the 18 th century — that have continued to inspire Iranian art and architecture. The palace complex houses the Versailles-inspired, mirror encrusted Marble Throne Hall used for the coronation of the last Shah, and an Ethnographic Museum. Next, we will explore the National Museum of Iran that preserves the country's historical and cultural record through the presentation of some 300,000 artifacts — the oldest dating back more than 30,000 years. Its two buildings are dedicated to pre-Islamic and post-Islamic periods. Highlights include everything from gigantic stone reliefs found in Persepolis to ancient coins and historic copies of the Qur'an. In the evening and for the last visit, we will go to Milad tower. A multi-purpose tower which gives you skyline view of Tehran. The last landscape of Tehran will be memorable of above. Overnight in Tehran

Early morning hotel check out and group transfer to airport for flight back home.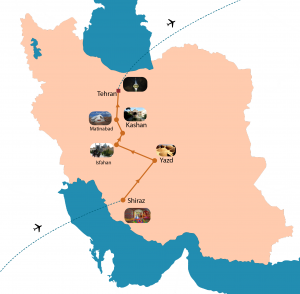 Attention
If your arrival flight lands in other cities, we would provide you, a domestic flight to catch up with the rest of the group.

According to attached program ,the clients arrive at shiraz

 

04/02/2018 Sunday (early morning)/ 03/02/2018 Saturday(evening/night)

This fix departure includes bed and breakfast.
The transfer IN or OUT will be with Persian speaking driver
The supplement of Transfer IN / based on 02 pax / Persian speaking driver is 00 euros / per pax ( one way )
The supplement of Transfer OUT / based on 02 pax / Persian speaking driver is 00 euros / per pax ( one way )

The price of one night ACC +breakfast / in DBL room / In Tehran is 64.00 euros / per pax if the clients depart after
11/02/2018 Sunday from Tehran

The price of one night ACC +breakfast / in SGL  room / In Tehran is 125.00 euros / per pax if the clients depart after
11/02/2018 Sunday from Tehran

The price of one night ACC +breakfast / in DBL room / In shiraz  is 50.00 euros / per pax if the clients Arrive before
04/02/2018 Sunday to Shiraz      

The price of one night ACC +breakfast / in SGL  room / In shiraz  is 100.00 euros / per pax if the clients Arrive before
04/02/2018 Sunday to Shiraz      

In Matin Abaad Eco-Camp you could stay in a room or if you are interested you could stay in an equipped tent.
Tour highlight
Milad tower
Golestan Complex
Narenjestan or Eram garden
Tomb of Hafez
Nasir ol Mold mosque (Pink mosque)
Karim Khan Citadel
Persepolis & Naghsh-e Rostam
Pasargadae
Dowlat Abad garden
Jame Mosque in Yazd
Amirchakhmagh Complex
Tower of silence
Boroujerdi house
Imam square with Imam and Sheikh Lotfollah Mosque
Alighapou palace
Chehel Sotoun Palace
Fin garden
Included services
Visa
Transport
Tour guide
Accommodation
The prices include
The prices for your  Program, based on Bed and Breakfast, in shared DBL room, per pax would be as follow:
| | |
| --- | --- |
| Group size | Price in EURO Per pax |
| Minimum 02 pax | 934.00 |
Single Supplement:  277,00 EURO
 Tourist class ⊗                        DBL ⊗                          B/B⊗

| | |
| --- | --- |
| City | Hotel |
| Tehran | Asareh / Mashhad/ Kowsar 3*/4* |
| Shiraz | Parseh / Ario / Karim khan  3*/4* |
| Yazd | Daad/ Moshir/ Mehr 3*/4* |
| Isfahan | Pirouzi/ Setareh / Sheikh Bahaii 3*/4* |
| Matin Abaad | Room in Matin Abaad Eco-camp |

Guide
Land Transportation
English Speaking ⊗

 

SEDAN CAR (2 Pax) ⊗

VAN (3-5 Pax) ⊗

MINI–Bus (06-09 Pax)  ⊗

MIDDEL– Bus (10-14 Pax)  ⊗

Visa
Visa processing  in Iran ⊗

Visa stamp Fee □

* In Iran's abroad embassy or consuls

Transfer ⊗
Entrance Fees ⊗

Portage in the hotels ⊗

Tips in the restaurant ⊗

 Entertainment ⊗

* During land transportation two bottle 0.5 ltr of mineral water