The Pearls of Iranian Desert
Be ready to be surprised by the most stunning sites and hospitable people for the next 14 days. Tehran the capital on the foot of Alborz Chain Mountains is filled with old and modern landmarks. The Golestan Palace a UNESCO World Heritage Site is a masterpiece of the Qajar era in the heart of the city. Next visit is the Ganjnameh, an ancient carved inscription on the side of Mount Alvand in Hamadan. Bisotun in Kermanshah, Tchogha Zanbil Ziggurat in Ahwaz, Persepolis and Pasargadae near Shiraz, Imam Square and Jame Mosque of Isfahan are other world heritage sites that you will visit in your tour to Iran. In the middle of Silk Road there is a city that is known as the pearl of desert. Beautiful Yazd with its numerous windward is the house of Zoroastrian fire temples, Madrasahs, and mosques. The one and only eco-camp of Iran in Matinabad desert, the Fin Garden of Kashan, and the historic town of Abyaneh are the wonders of Iranian desert that you will get to see.
Arrival in Imam Khomeini International airport, after greeting, transfer to the hotel


Drive to Hamadan. Visit Avicenna tomb, Ganjnameh vally, Abbasabad hills.


Hamedan- Kermanshah

Day 04

Drive to Kermanshah via Kangavar where you will visit Anahita Temple. Continue to Kermanshah, en route visit Bisotun and Taq-e Bostan.


Early morning drive to Ahwaz then having short stop in Poldokhtar. Continue to Susa with Apadana palace. Visit the Unique Construction of the Chogha Zanbil Ziggurat, the most importance religious site in the Elamite Kingdom.


Shiraz. Drive to Shiraz, En route visiting Tange Chogan, sightseeing of the ruins of Bishapur. (ancient Sassanid city)


Half day excursion to Persepolis & Naghsh e Rostam necropolis. Drive back to Shiraz.


Shiraz-Pasargadae-Abarkuh-Yazd

Day 09

Drive to Yazd , continue to Yazd ,en route visit Pasargadae & Abarkuh  4000-yaers old cypress tree.


Yazd -Nain -Isfahan

Day 11

Drive to Isfahan. En route visit Meybod & Nain. Stroll among old bridges in Isfahan


In the morning, Visit Armenian Christian Vank Church and Friday Mosque. Drive to visit Natans & Abyane. Continue to Matinabad .


Matinabad-Kashan-IKA

Day 14

Morning experience Camel riding (optional) & visit desert, Drive to Kashan, visit Fin garden & traditional houses. Next drive to IKA To departure.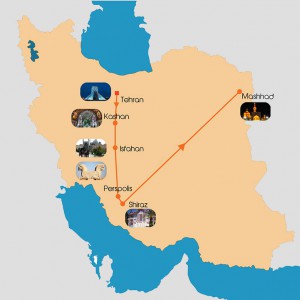 Tour highlight
Milad tower
Niavaran or Saadabad palace
Anahita temple
Apadana palace
Tagh e Bostan & Bistoun
Hafez tomb
Persepolis & Naghsh e Rostam
Pasargadae
Narenjestan or Eram garden
Dowlat abad garden
Amirchakhmagh Complex
Tower of silence
Pirnia house
Imam square with Imam and Sheikh lotfollah Mosque
Alighapou palace
Chehel Sotoun Palace
Fin garden
Services included
Visa
Transport
Tour guide
Accommodation
The prices include
Accommodation in the hotels as per program
Generally half board or full board
All transfers
All land transportation
Tour guide
Entrance fees according to program
Visa support
Tip and portages in restaurants and hotels