A Journey Through the Richest Cities Under the Sun
Enjoy visiting Persia, a land as old as the history. This 16-days tour to Iran is a trip to the birthplace of civilization. All along your way in cities of Tehran, Kermanshah, Shiraz, Isfahan, Susa, and etc., you will be mesmerized by the beauty of UNESCO World Heritage sites. The journey starts in Tehran the capital, and it goes on by heading to the Zoroastrian fire temple, mausoleum of great scientists, poets, glorious Persian emperors, and the Shia saints. The old bridges of Isfahan, Imam Square with its marvelous mosques, minarets, bazaar, and palaces will expose the Safavid showcase in front of your eyes. Lush gardens, kings' citadels, shrines, and tombs in the heartland of Persia, Shiraz will be one of the highlights of your tour to Iran. And of course Persia's masterpiece, the ruins of Persepolis is Iran's must visit site. Your tour to Iran will end in Mashhad after visiting the holly shrine, museums, and a farewell dinner.
BON VOYAGE!
Morning drive to Hamadan on the way visiting  Bisotun and Anahita Temple


Hamedan- Kangavar- Kermanshah

Day 04

After breakfast drive to Kangavar. Visit Anahita temple; continue to Kermanshah


Kermanshah –Shush –Ahwaz

Day 05

Having breakfast and drive to Shush. Visit Choghazanbil Ziggurat. Continue to Ahwaz


Ahwaz- Bishapur- Shiraz

Day 06

After breakfast, drive to Shiraz. En route visit Bishapur


Shiraz – Persepolis

Day 08

Full day excursion to Persepolis & Naghsh e Rostam necropolis.


Shiraz- Pasargadae –Abarkuh- Yazd

Day 09

After breakfast, drive to Yazd, en route visit Pasargadae. Next, drive to visit Abarkuh


Yazd- Nain –Isfahan

Day 11

Morning drive to Isfahan,  En route visit. Continue to Isfahan


In the morning,  Visit Armenian Christian Vank Church and Friday Mosque. Having lunch and transfer to Mashhad from airport or railway


Morning,drive to Tus, in Tus we will visit Ferdowsi Mausoleum. Back to Mashhad.


Early morning transfer to international airport and departure.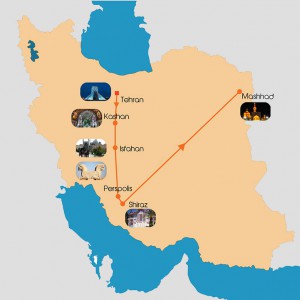 Tour highlight
National museum, Golestan palace
Avicenna mausoleum, Ganjname, Hegmatana
Anahita templ
Bisotoun & Tagh e Bostan
Choghazanbil Ziggurat
Bishapur
Nasirol Molk Mosque, Narenjestan or Eram Garden
Persepolis & Naghsh e Rostam
Pasargadae
Zoroastrian fire temple , tower of silence
Nain Jamme mosque & Narin Castle
Chehel Sotun Palace ,Imam Square with Imam and Sheikh Lotfollah Mosques, Ali Qapu Palace
Vank Church
Imam Reza holy shrine
Ferdowsi tomb, Haroniyeh prison, Akhangan tower
Services included
Visa
Transport
Tour guide
Accommodation
The prices include
Accommodation in the hotels as per program
Generally half board or full board
All transfers
All land transportation
Tour guide
Entrance fees according to program
Visa support
Tip and portages in restaurants and hotels