Explore the history of Persian Silk Road in Iran. Travel around this ancient region and see the feast of spiritual bazaars, gardens, Zoroastrian fire temples, and gorgeous mosques.  Iran plateau is the home to the old holy city of Choghazanbil that its ziggurat, a UNESCO world heritage site, never got finished because of Ashurbanipal's invasion, also the home to the world's sixth tallest tower Milad Tower in the capital, Tehran. You can visit the mausoleum of such brilliant soul as Avicenna, the most famous philosopher-scientist of the Islamic world in the city of Hamedan. Also, you become familiar with the journey of the Jewish prince and Prophet, Daniel, to Iran that his tomb is in the ancient city of Susa for centuries now.
Arrive in Tehran Airport (IKA), greetings and transfer to the hotel.


Full day city tour of Tehran.


Drive to Hamedan; visit the Tomb of Avicenna, the Stone Lion and Ganj Nameh.


Hamedan- Kermanshah

Day 04

In the morning visit Hegmatane Hill. Drive to Kermanshah via Kangavar where you will visit Bisotun rock and Taq-e Bostan grottoes.


Kermanshah- Khoramabad

Day 05

In the morning visit Takieh Moaven ol Molk and Bazaar then drive to Khorramabad.


Drive to Ahwaz via Susa. In Susa visit Apadana Palace, Museum and Daniel's grave. Also visit Elamite temple of Choghazanbil and in Shushtar visit Qajar Water Mills. Continue to Ahwaz.


Full day drive to Shiraz, en route visit Sasanid ruins of Bishapour and Tange Chowgan rock reliefs. Continue to Shiraz.


Full day city tour of Shiraz


Full day city tour of Shiraz


Full day drive to Kerman; en route see Maharlu and Bakhtegan salt lakes and visit the ruins of Sassanid Palace in Sarvestan. Continue to Kerman.


Drive to Rayen via Mahan, in Mahan visit the Mausoleum of Shah Nematollah Vali and former royal Shazdeh Garden, after visit of ruined fortress in Rayen, return to Kerman and visit Ganj Ali Khan complex, Bazaar and caravanserai.


In the morning drive to Yazd. In Yazd will visit Amir Chaqmaq complex and Zoroastrian Towers of Silence.


In the morning visit Friday Mosque, Dowlatabad Garden with Wind Tower and Fire temple. In the afternoon, drive to Isfahan via Nain. In Nain visit Jame mosque and Caravanserai. Continue to Isfahan.


Full day city tour of Isfahan


Drive to Tehran, in Natanz visit Jame Mosque, in Kashan visit Broujerdis' House and Fin Garden.


Departure. Transfer to the international airport IKA for your return flight.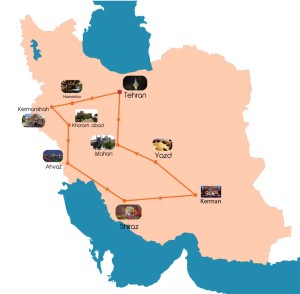 Tour highlight
Golestan Palace
Avicenna Tomb
Hegmatane Hill
Apadana Palace
Choghazanbil Ziggurat
Bishapour and Tange Chowgan rock reliefs
Persepolis (UNESCO World Heritage Site)
Nasirol Molk Mosque
Sarvestan Palace.
Amir Chaqmaq Complex.
Imam Square (UNESCO World Heritage)
Fin Garden
Services included
Visa
Transport
Tour guide
Accommodation
The prices include
Accommodation in the hotels as per program
Generally half board or full board
All transfers
All land transportation
Tour guide
Entrance fees according to program
Visa support
Tip and portages in restaurants and hotels