Iran Golden Deserts Land Tour
This land of golden deserts with the emerald Chahar Bagh gardens will be the most hospitable host that you will see in your travels. One of these golden cities in Iran is the beautiful Yazd that represents one of the best human adaptations to the difficult natural settings. Iran has been the home to millions of people for thousands of years and there are numerous architectures left from the old days all over the country. From the days that Isfahan was the capital of Safavid Dynasty and has a wealth of spectacular mosques and palaces from that era, or the days such great Persian poets as Saadi and Hazfez were born and buried in Shiraz, to this date that the mega city of Tehran is the modern capital of Iran.
Arrival in Tehran International Airport (IKA) .Our guide will welcome and transfer you to the hotel.

Half day city tour of Tehran then in the evening flight to Shiraz


Full day city tour of Shiraz.


Shiraz - Persepolis - Pasargadae - Yazd

Day 04

Having early breakfast and then drive to Yazd; en route visit Persepolis, Naghshe Rostam and Pasargad .Continue to Yazd, we will visit old cypress in Abarghu.


After breakfast we will visit tower of silence, fire temple, Mir chakhmagh complex, Jame mosque and then drive to Isfahan. In Isfahan will visit Sio Sepol and Khaju bridges.


Full day city tour of Isfahan


Isfahan - Kashan - Tehran

Day 07

After breakfast we will visit Vank Church, the biggest and the most beautiful church in Isfahan. Then, Drive back to Tehran via Kashan. In route visit Kashan and visit Fin Garden, a historical garden on the heart of the desert & Broujerdis' House with its beautiful wind towers. Continue to Tehran


Departure, transfer to the airport.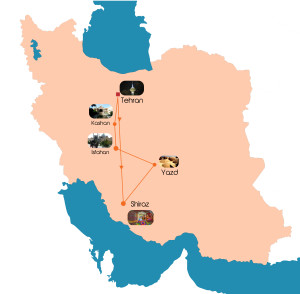 Tour highlight
Archaeological, Glass & Ceramic, Carpet museum
Hafez & Saadi tombs
Persepolis and Pasargadae
Old cypress in Abarghu
Fire temple
Mir chakhmagh complex
Jame mosque in yazd
Naghshe- Rostam
Naghsh-e Jahan Sq
Aliqapou Palace
Chehel Sotoun
Fin Garden
Bourojerdi House
Services included
Visa
Transport
Tour guide
Accommodation
The prices include
Accommodation in the hotels as per program
Generally half board or full board
All transfers
All land transportation
Tour guide
Entrance fees according to program
Visa support
Tip and portages in restaurants and hotels