En Route with the Persian Bakhtiar
The proximity of fertile plains and mountains in Iran facilitates the transhumance of nomads between summer and winter meadows and pastures in search of grazing for their animals. In such a setting, several different tribes of nomads live whose unique lifestyle, colorful costumes and distinctive textiles have long been a source of attraction for visitors seeking a delightful opportunity to witness the remaining of nomadic migrations.
In their annual or seasonal migrations, nomads move from their winter resort locations to summer grazing lands along with their animals and move back to their winter resort locations again when it gets cold.
From dozens of different tribes, Bakhtiyari and Qashghaye nomads are more famous for their origins, their set of clothes, their tribal structures and traditions and for the scenic beauty of their camping sites.
Welcome at Tehran International Airport IKA  and transfer to your hotel.


Half day city tour in Tehran. Late afternoon flight to Shiraz.


Shiraz-Persepolis-Naghshe Rostam

Day 03

After breakfast drive toward Persepolis and Naghsh-e-Rostam (necropolis). Then drive back to Shiraz and visit Hafiz Tomb and Ali ebn Hamzeh Mausoleum.


Shiraz-Yasouj (170 km)

Day 04

Half day city tour in Shiraz  and after that, drive to Yasouj.


Yasouj-Vastegan-Cheshme Ab-e Sard (210 km)

Day 05

Early morning Drive to Vastegan. Continue from Vastegan by minibus in the Sabzkuh valley about 16 kilometers to Cheshme Ab-e Sard area (2450m). En route stop at Vastegan gorge and, along the lonely road in Sabzkuh valley, meet nomads in their camps.


Cheshme Ab-e Sard - Tang-e Zendan (20 km)

Day 06

Drive by minibus close to Tang-e Zendan viewpoint (2800m). En route meet nomads. Trek about 4 hours in Tang-e Zendan area. Return by minibus to Camp in Cheshme Ab-e Sard area


Cheshme Ab-e Sard area - Cheshme Chehrazgon area (about 15 km)

Day 07

Trek about 6 hours along Sabzkuh river. During this trek you will stop at Bardboland nomad camp. Arrive in Cheshme Chehrazgon area (2350m).


Cheshme Chehrazgon area – Chehraz area (about 15 km

Day 08

After 5 hours trekking, arrive at the lonely road in Sabzkuh valley (1950m). Drive to Cheshme Sar Khor and have a little trekking.


Chehraz area – Ladjan mountain – Tang-e Laghar pass (about 15 km)

Day 09

After arriving near Tang-e Laghar pass (2500m), the group will trek for 3 – 4 hours.En route there are some small nomad camps.


Lajan mountain –Durak - Isfahan (trek 15 km) Drive: 230 km

Day 10

Arrive at Durak, after visit its area drive to Isfahan.


Full day city tour of Isfahan.


Full day city tour of Isfahan.


Isfahan-Natanz-Matin Abad

Day 13

In the morning drive to Matin Abad desert camp via Natanz visiting famous Friday mosque in Natanz continue to Matin Abad.


Matin Abad-Abyaneh-Qom-Tehran

Day 14

Drive to Tehran,en route visit beautiful mountainous village of Abyaneh,continue to Qom and visit Fatima's sanctuary from outside, arrive to Tehran.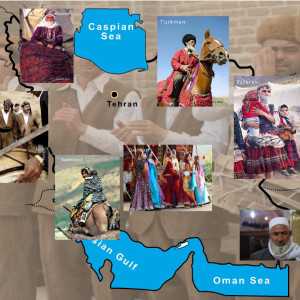 Tour highlight
Archaeological museum, Golestan palace
Persepolis (UNESCO World Heritage )
Nagh – e Rostam
Hafiz Tomb
Ali ebn Hamzeh Mausoleum
Narenjastan Garden
Bakhtiari Nomad
Tang-e Zendan
Sabzkuh river
Bardboland nomad camp
Naghshe Jahan Sq
Ali Qapou palace
Services included
Visa
Transport
Tour guide
Accommodation
The prices include
Accommodation in the hotels as per program
Generally half board or full board
All transfers
All land transportation
Tour guide
Entrance fees according to program
Visa support
Tip and portages in restaurants and hotels